A "Classic" CSA Box: full of flavor and nutrition!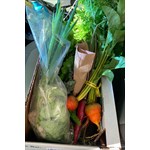 Category: Fruit & Produce
6/22-9/21/2023 (Weekly on Thursday) Harvested day of delivery and packed in a 1/2 bushel waxed box: greens, root crops, onions, garlic and their kin, tomatoes, peppers, eggplant, squash, cucumbers, corn on the cob, beans, sweet potatoes, fingerling potatoes, cabbage, micro-greens, thyme, basil oregano, rosemary, winter savory, parsley, cilantro, lovage, mint, sorrell, and more. Check out add ons!
Tags
Beyond Organic
Herbicide Free
Local
Pesticide Free
Sustainable Practices
Vegetarian
Available At These Locations
The Mill (home of the Skaneateles Brewery and Last Shot Distillery)
Purchase
0 % Vegetables and Herbs