Why Convert Lawn to Meadow?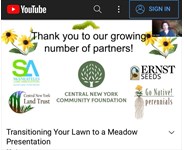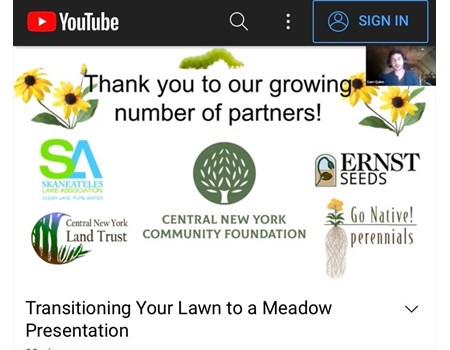 Working with Sam Quinn of SUNY, College of Environmental Science and Forestry's Restoration Science Center (RSC), Go Native! perennials has helped create two demonstration meadows on our farm site for Skaneateles home owners to view. Planted in June 2021, native plant seedlings are coming up strong - last week we saw bergamot, black-eyed susan, anise hyssop seedlings - and a lot more!! Sam and Brandy Neveldine, also from the RSC, will host visits to the demo meadows in the near future; stay tuned! In the meantime check out Sam's presentation for Onondaga County's Cornell Cooperative Extension to learn how a meadow can help protect Skaneateles Lake, water quality, promote birds, bees, butterflies and other beneficial wildlife, Transitioning Your Lawn to a Meadow

https://www.youtube.com/watch?v=QIWtgZxjMg4

Published: 07/17/2021
What is a "native plant"? Definition and helpful resources.
Go Native! perennials uses the definition put forth by Doug Tallamy and Rick Darke in their book The Living Landscape: Designing for Beauty and Biodiversity in the Home: "A plant or animal that has evolved in a given place over a period of time sufficient to develop complex and essential relationships with the physical environment and other organisms in a given ecological community."

The Finger Lakes Native Plant Society provides a list of resources to help us determine if a plant is native to this area, and to learn about the plants. Check it out: https://flnps.org/links#PlantDatabases

Habitat Gardening in Central New York offers programs and educational material that is helpful to all of us when selecting and growing native plants.

Published: 05/28/2021
July 15 Marketplace News
https://madmimi.com/p/f682011

Published: 07/15/2020