Easy Oven-Roasted Tomatoes with Garlic and Herbs
TOO MANY TOMATOES? WANT TO SAVE SOME SUMMER FOR WINTER?

We can help with this simple, delicious, freezable recipe!
All you need are tomatoes, garlic, basil, olive oil, and sea salt. You'll also need a rimmed baking sheet and, if you want to peel the tomatoes, a set of kitchen tongs.

Any kind of tomatoes will work--even the little teeny ones. You can follow this method all the way to the end, or you stop at simply roasting them, and then packing them plain into a plastic container to freeze for use later. (Don't skip the salt, though.) Or you can fancy them up a little with roasted garlic and wilted basil, as we're doing here.

GET ROASTIN'!

Wash your tomatoes.

Drizzle a rimmed baking sheet with olive oil.

If the tomatoes are large, slice them in half and arrange them on the baking sheet with the cut side down (peeling up). If they're cherry tomatoes, you can just throw them on the cookie sheet in wild abandon.

Place the tomatoes in a 450 degree oven. Roast them until they begin to collapse a little. Begin checking them at about 10 minutes.

While the tomatoes are roasting, slice several large cloves of garlic. You can add as little or as much as you like. I usually slice about 3 large cloves per baking sheet of tomatoes.

TO PEEL OR NOT TO PEEL?

If you don't like the peels on your tomatoes, then once they're hot and the peels are loose, pull the sheet out of the oven and set it on top of the stove. At this point, you can easily remove the peels with a set of kitchen tongs and throw them in the compost. They'll just lift right off of the tomatoes. If the peels aren't loose yet, just put them back in the oven for a few minutes and check again.

Here's an admission. If they are little tomatoes, I often just leave the peels in the mix. They don't hurt anything. But you do you!

At this point, you should sprinkle sea salt over the tomatoes, to your taste. You can add some pepper, too. Then sprinkle the garlic slices over the tomatoes drizzle again with olive oil.

Roast until the tomatoes are jammy, caramelized, and not so liquidy. While they're roasting, prepare your basil for wilting over top of them when you pull them out.

BASIL MAKES IT BETTER

I usually chiffonade the basil leaves (stack them on top of each other and then roll them into a cylinder, then cut so that the pieces come out in long strips). You can also just chop the basil or tear it and sprinkle it over the hot tomatoes, then stir to combine them.

Let the whole thing cool, then pack into freezer bags or freezer containers. When I'm using a freezer container, I usually put a thin layer of olive oil over the top just to create an additional air barrier. Be sure to mark the container with the date and the ingredients.

SAVOR LATER!

If you don't like basil, feel free to substitute with any herb that suits your fancy. Oregano comes to mind as a great choice for tomatoes. Or use minced onion instead of garlic.

These tomatoes will bring August to your plate in February. Impress your company (and yourself) by warming them up and serving them with grated parmesan cheese over pasta or a cooked chicken breast. Add crusty bread and a fabulous salad for a wonderfully simple meal.

Recipe taken from the Center for Rural Culture, N Chesterfield VA: https://flflr.luluslocalfood.com/

Published: 07/01/2022
Website Coming Soon in 2022!
We are happy to announce that we will have a website soon for Growing for Skan, Doce Lume Farm and Go Native! perennials.  This will help us post the harvest of the week, photos of what is in bloom, advertise events (like the Lawn to Meadow event and upcoming landscaping with natives educational series) and share articles and insights.

Published: 11/12/2021
Why Convert Lawn to Meadow?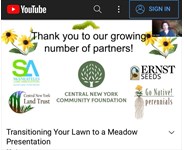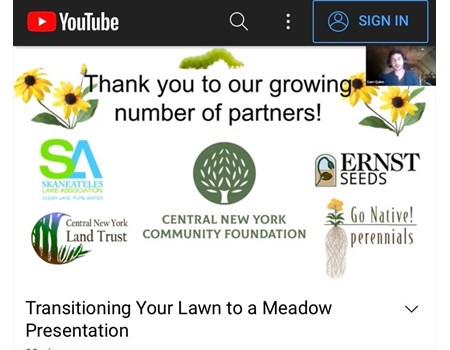 Working with Sam Quinn of SUNY, College of Environmental Science and Forestry's Restoration Science Center (RSC), Go Native! perennials has helped create two demonstration meadows on our farm site for Skaneateles home owners to view. Planted in June 2021, native plant seedlings are coming up strong - last week we saw bergamot, black-eyed susan, anise hyssop seedlings - and a lot more!! Sam and Brandy Neveldine, also from the RSC, will host visits to the demo meadows in the near future; stay tuned! In the meantime check out Sam's presentation for Onondaga County's Cornell Cooperative Extension to learn how a meadow can help protect Skaneateles Lake, water quality, promote birds, bees, butterflies and other beneficial wildlife, Transitioning Your Lawn to a Meadow

https://www.youtube.com/watch?v=QIWtgZxjMg4

Published: 07/17/2021
What is a "native plant"? Definition and helpful resources.
Go Native! perennials uses the definition put forth by Doug Tallamy and Rick Darke in their book The Living Landscape: Designing for Beauty and Biodiversity in the Home: "A plant or animal that has evolved in a given place over a period of time sufficient to develop complex and essential relationships with the physical environment and other organisms in a given ecological community."

The Finger Lakes Native Plant Society provides a list of resources to help us determine if a plant is native to this area, and to learn about the plants. Check it out: https://flnps.org/links#PlantDatabases

Habitat Gardening in Central New York offers programs and educational material that is helpful to all of us when selecting and growing native plants.

Published: 05/28/2021
July 15 Marketplace News
https://madmimi.com/p/f682011

Published: 07/15/2020