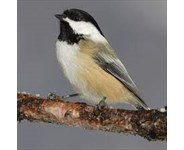 Black capped chickadee parents must catch between 6,240 and 9,120 caterpillars to rear one clutch of their young. And, those caterpillars must be near the nest or mom and dad will spend too much energy hunting caterpillars. The chickadee is not alone. Many song birds need the soft skinned, nutritious, carotenoid-heavy caterpillars to grow their young to be healthy adults.

How can you grow more caterpillars for our baby song birds? Add native plants that support caterpillars to your landscapes.

"On average yards dominated by non-native plants:
* produced 75% fewer caterpillars
* were 60% less likely to have breeding chickadees
* Nests contained 1.5 fewer eggs
* Clutches were 29% less likely to survive
* Nests produced 1.2 fewer fledglings
* Maturation was delayed by 1.5 days." (D Tallamy) read more...