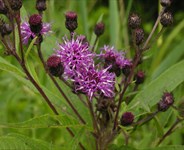 We begin posting inventory online in May (this site, go to SHOP). If you are interested in a large order get in touch. We offer large order pricing discounts. At this point most of our plants are either in 1 gallon pots, 6" or 4" pots, or plugs. We may have larger plants in our gardens that could be dug for transplant.

GENUS/SPP/VAR Common name
Fern Thelypteris noveboracensis NY Fern
Fern Dryopteris intermedia Evergreen wood fern
Fern Adiantum pedatum Northern Maidenhair Fern
Fern Asplenium trichomanes Maidenhair spleenwort
Fern Polypodium virginianum Rock polypody fern
Forb Agastache foeniculum Lavender hyssop
Forb Allium cernuum Nodding Onion
Forb Allium tricocum Wild leek/ramp
Forb Amsonia margaritacea Pearly Everlasting
Forb Amsonia tabernaemontana Eastern Bluestar
Forb Aquilegia canadensis Red Columbine
Forb Asclepias incarnata Swamp milkweed
Forb Asclepias tuberosa Butterfly weed
Forb Baptisia australus Indigo
Forb Campanula americana American bellflower
Forb Caulophyllum giganticum Blue Cohash
Forb Chelone glabra White turtlehead
Forb Delphinium exaltatum Tall larkspur
Forb Eupatorium perfoliatum Boneset
Forb Eurybia divaricata White wood aster
Forb Eutrochium purpurum Purple Joe Pye
Forb Filipendula rubra Queen of the Prairie
Forb Gentiana andrewsii Bottle gentian
Forb Gentiana clausa Meadow Fringed Bottle Gentian
Forb Helenium autumnale Sneezeweed/Helen's flower
Forb Heliopsis helianthoides Oxeye sunflower
Forb Heuchera americana American Alum Root
Forb Iris cristata Crested iris
Forb Liatris spicata blazing star
Forb Monarda didyma bee balm
Forb Monarda fistulosa wild bergamot
Forb Penstemon digitalis Beardstongue
Forb Penstemon hirsutis Hairy Beardstongue
Forb Pycnanthemum tenufolium Narrow leaf mountain mint
Forb Pycnanthemum virginicum Virginia Mountain mint
Forb Rudbeckia hirta Black eyed susan
Forb Rudbeckia lacinata Cut leafed Coneflower
Forb Rudbeckia triloba Brown eyed Susan
Forb Solidago caesia Blue stemmed goldenrod
Forb Solidago flexicaulus Zigzag goldenrod
forb Solidago semprevirens Seaside Goldenrod
Forb Symphyotrichum cordifolium Blue or Heart Leafed aster
Forb Symphyotrichum novae-angliae New England aster
Forb Tiarella cordifolia Heartleaf foam flower
Forb Verbena hastata Blue vervain
Forb Vernonia noveboracensis New York ironweed
forb Veronicastrum virginicum Culver's root
Forb Viola soraria common violet
Grass Andropogon gerardii Big bluestem
Grass Bouteloua curtipendula Sideoats grama
Grass Chasmanthium latifolium Northern sea oats
Grass Deschampsia flexuosa Crinkled hairgrass
Grass Dicanthelium clandestinum Deer tongue
Grass Elymyus histrix Bottlebrush grass
Grass Elymyus virginicus Virginia wildrye
Grass Panicum virgatum Switchgrasses
Grass Schizachyrium scoparium Little blue stem
Grass Sorgastrum nutans Indian grass
Grass Sporobolus heterolepis Prairie dropseed/northern dropseed
Ground Cover Phlox stolonifera Creeping Phlox
Ground Cover Phlox subulata Moss Phlox
Sedge Carex crinita Fringed sedge
Sedge Carex greyeii Gray's sedge
Sedge Carex pedunculata Long stalk sedge
Sedge Carex pensylvanica Pennsylvania sedge
Sedge Carex radiata Eastern star sedge
Sedge Carex vulpinoidea Fox sedge
Sedge Scirpus atrovirens Dark green bulrush

We anticipate having the following shrubs available for sale in 2022, (*) some will be available this summer.
Shrub Actea pachypoda mix Dolls Eyes
Shrub Amelanchier spp Serviceberry (shrub not tree)
Shrub Aronia melanocarpa Chokeberry *
Shrub Cephalanthus occidentalis Buttonbush
Shrub Cornus racemosa Gray dogwood
Shrub Cornus sericea Red twigged dogwood
Shrub Diervilla lonicera Bush Honeysuckle, low growing
Shrub Hamamelis virginiana American Witch-hazel
Shrub Hypericum prolificum Shrubby St. Johns Wort *
Shrub Ilex verticillata Winterberry
Shrub Lindera benzoin Spicebush
Shrub Physocarpus opulifolius Ninebark
Shrub Rhododendrum viscosum Swamp azalea
Shrub Rhus aromatica Gro-low fragrant sumac
Shrub Ribes americanum Wild black current
Shrub Rubus oderatus Purple flowering raspberry
Shrub Salix niger Pussy Willow
Shrub Sambucus canandensis American elderberry
Shrub Sambucus niger Elderberry
Shrub Vibernum Trilubum High bush cranberry
Shrub Zizia aurea Golden alexander *

Tree Asimina triloba Pawpaws
Tree Liriodendron tulipifera Tulip Tree
Tree Quercus rubra Northern red oak
Tree Salix Black Willow
Vine Clematis virginianum Virgins Bower read more...