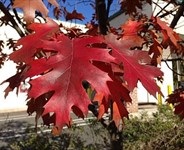 According to this research study native trees, especially oaks, host the bulk of the Carolina Chickadee's insect-intensive diet.

"It's a basic idea, but it makes a whole lot of sense: Native plants are better for native birds than introduced flora. More specifically, because these trees and shrubs have evolved with the local wildlife, they harbor more insects or yield more berries and fruit than non-native plants, providing greater amounts of food for certain critters. This seemingly obvious idea has been buttressed by years of research by Doug Tallamy, whose published work has shown that these plants host many more caterpillars, and that yards with more native vegetation host more native-bird species." Read the entire article on the Audubon website: https://www.audubon.org/news/new-research-further-proves-native-plants-offer-more-bugs-birds

Find your bird friendly plants here:https://www.audubon.org/native-plants read more...