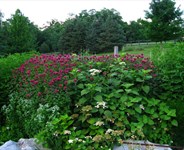 Go Native! perennials inventory includes a growing selection of native flowering plants, grasses, shrubs and trees for your garden – 95% were grown from seeds collected in CNY. In 2021 we anticipate having a broader selection of trees, ferns and sedges as well. These plants are available to homeowners and landscapers, in both pots and bareroot. For large orders (over 25 plants) call to discuss delivery.

Interested? Please Sign Up to become a member, free of charge (in 2020).
• Once you've joined you can see any inventory available.
• Order weekly until Monday 11:59 pm
• Pick up at The Mill, 4022 Mill Road, Skaneateles on Thursdays between 4-6:30pm (where you can also purchase from Last Shot Distillery and the Skaneateles Brewery).
• Pay online with credit card.

Please join to help us grow this online market and make locally grown food, products and native plants easily accessible to all of us! Thank you. read more...