ALL INCLUSIVE CSA BOX: a great deal!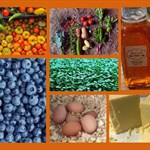 Category: Fruit & Produce
Regular weekly CSA Box (6/22/23-9/21/23) plus 4 Add Ons described below. Box contents: 1/2 bushel box of vegetables, microgreens and herbs plus 1 dozen free range eggs biweekly, 1 lb Muranda cheese biweekly, berries and other fruit as available throughout the summer and 2 lbs of local honey for the season. Flowers extra.
Tags
Beyond Organic
Free Range
Herbicide Free
Local
Non-GMO
Pesticide Free
Sustainable Practices
Available At These Locations
The Mill (home of the Skaneateles Brewery and Last Shot Distillery)
Purchase
0 % Vegetables and Herbs